Key Learnings from my Four Favourite Business Books
One of the main problems with reading a constant stream of business books is that each comes multitude of different ideas and strategies.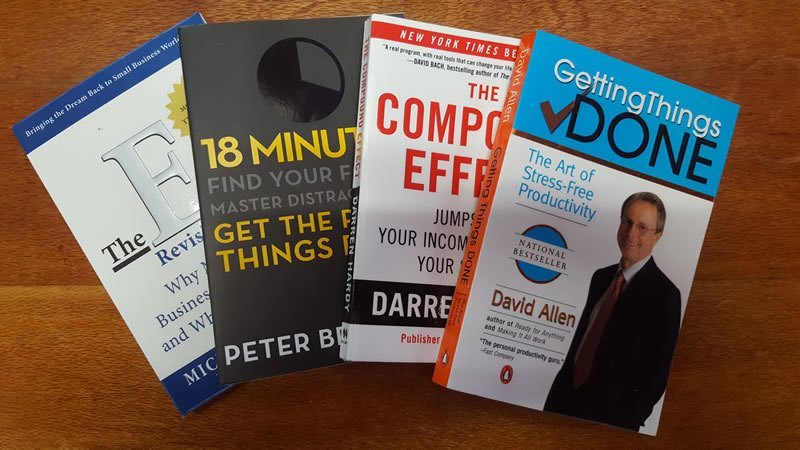 Obviously, it is impossible to take every idea and implement them into your business – no small business owner has the time or capacity to do so.
Instead, I have experimented with various strategies over time to see what will work for me (and what doesn't). Through this experimentation, I've found that each of my favourite books has a key learning that I use in my everyday business life. In this blog, I'll share those learnings with you…
"The Compound Effect" by Darren Hardy
The main premise of Hardy's book is common sense when you stop and think about it. Each day, we constantly make small, inconspicuous decisions that shape the outcomes that we achieve in our lives. By making incremental changes to these decisions, we can achieve any goal that we set for ourselves – in health, family, or business.
For example, if we consciously plan to add one extra social media marketing post into our daily business routine, we will reap the benefits down the track as our online footprint will be much larger than it is today – all because of the compounding effect of that minor change we made.
"18 Minutes" by Peter Bregman
The key take-away point that I found in "18 Minutes" is to devote a small amount of time each day ensuring that the focus of your daily tasks is aligned with your overall objectives.
The "18 minutes" is used when you devote:
Five minutes at the start of business to clarify that all planned work is aligned with your overall objectives.
One minute at the start of each business hour double-checking that focus is adhered to.
Five minutes at the close of business determining the following day's outline and plan.
"The E-Myth Revisited" by Michael E. Gerber
Gerber, through an engaging narrative style, encourages his readers to establish their businesses in a franchise-style – just like McDonalds – regardless of their size or employee numbers. He believes that through the creation and use of Operations Manuals, a business can provide quality and consistent service at all times, regardless of the employee delivering that service.
One thing that makes this book stand out to me is the multitude of real-life examples that Gerber uses throughout to illustrate his ideas and teachings. The book is amazingly easy to read (almost in one sitting) and it makes you want to "spring into action" after you close the final page.
"Getting Things Done" by David Allen
Known as GTD, the process outlined in this book is gospel to some people. Once implemented, GTD helps shape the way you organise and complete tasks, anywhere in your life. It is so popular in fact that several software apps have been specifically designed to cater for devotees of the GTD method.
However, the GTD process wasn't the main take-away for me. I was engaged by the phrase – "Your mind is for having ideas – not storing them." Every day, so many things pass through our brains, it is impossible to mentally store each one away for further contemplation or action later. Rather than lose any ideas, I now keep a constant supply of Post-It notes close by and record anything and everything. The notes are then stuck to my computer screen for later processing.
In conclusion, please remember that these books have far more to offer than just the learnings that I have outlined above, and I heartily encourage all small business owners to read each book. Take notes as you do – on post-it notes of course.