Updating your own Website – Video Tutorials
Welcome to the Video Tutorial section of the Tropical Coast Web Design website. This area has been created especially for our clients to learn how to run their own websites using the integrated Content Management System. The number of video tutorials here will increase over time as requests for tutorials are answered.
If you have any questions about how to run your site designed by Tropical Coast Web Design, please send them through to us and we will record customised tutorials to answer any problems you have.
Note: When watching the videos here, you can change the quality and size to suit your viewing requirements. This is done using the controls inside each video.
Note: Tropical Coast Web Design was formerly known as Rusty Mango Design.
#1 Accessing the Site Dashboard

Running Time: 2.14min
This video covers how to log into your website's Dashboard using the username and password provided by your web designer. The Dashboard is the "control station" for the backend of your website and is the key access point for all the following tutorials.
#2 Editing and Adding Text Content

Running Time: 4.20min
In this tutorial, we look at how to access the existing page content of your site. We demonstrate how to make changes and addition to the text information and take a quick at some of the familiar icons used for formatting text.
#3 Adding Images and other Media files

Running Time: 6.19min
Imagery on a website is key to engaging the interest of your site visitors. In this video tutorial, we demonstrate how to add and modify images within your website page content. We also look at how other media, such as PDFs, can be uploaded and included in your site.
#4 Making changes to the Menu System

Running Time: 5.29min
Your website as a Content Management System is infinitely expandable – you can add as many pages as you like to it. In this tutorial, we demonstrate to include those new pages in the existing menu system (including drop-down menus) so that your site visitors can access them.
#5 Editing the Slideshow

Running Time: 5.56min
One of the eye-catching features on the front of many websites is the automated slideshow. In this video, we show to easily add to and remove images from the galleries using the Nextgen Gallery interface – an integrated part of your Content Management System.
#6 Adding and Editing Tables

Running Time: 5.16min
Sometimes, just like in a Word document, a table is needed to present information or "tidy up" the appearance of text. In this tutorial, we show how to insert and use new tables in your web page. We also touch on how to modify existing tables.
#7 Adding a Thumbnail Gallery to a page

Running Time: 6.56min
Got loads of pictures to upload to your website and need a presentable way to show them? In this video, we add images using the Nextgen Gallery interface to place a thumbnail gallery on a page and show the various options possible when click on those thumbnails.
#8 Adding new pages to your site

Running Time: 3.45min
Ready to add your own brand-new pages to your site. With this tutorial, you'll learn how to create those pages from scratch and build them to match the remainder of your existing site. For adding these pages to your menu system, see Tutorial #4.
#9 Creating Blog Entries for your site

Running Time: 4.03min
For those site owners who want maintain their own "fresh" blog posts, this tutorial will demonstrate the difference between regular pages and posts. It will discuss the use of text excerpts and featured images which can be integrate with the front page of your site.
#10 All About Plugins

Running Time: 4.03min
Plugins are great for our sites, adding a multitude of functions to the WordPress system. In this tutorial, you'll learn how to update Plugins to their latest versions and how to troubleshoot when two plugins clash.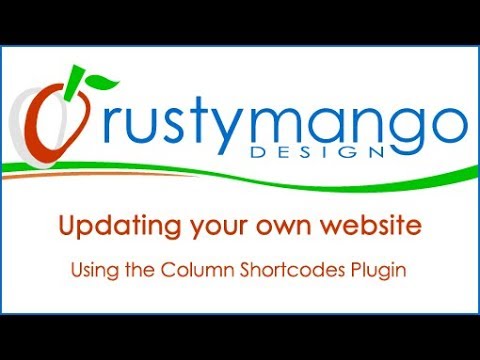 #11 Formatting Pages with Columns

Running Time: 4.01min
This tutorial explains how to use the Column Shortcodes plugin by CodePress to create columns for formatting the content of your website. The plugin can be downloaded from https://wordpress.org/plugins/column-shortcodes/